Having a dog with a leg injury is no fun. Finding the right product is essential. Walkin' Pets offers a range of soft neoprene leg wraps that support the hock or carpal joints. Walkin' leg wraps hug a dog's leg like an ace bandage, to provide light compression and support during recovery. Light leg support is great for dogs with minor leg injuries such as a sprain or strain, as a pet heals, and also for continued support at night when a canine leg brace is removed.
For paw knuckling, the Walkin' No-Knuckling training sock was designed with hind leg weakness in mind. The knuckling support sock aids in retraining dogs on how to pick their foot up and walk without dragging its paw. Anti-knuckling devices are a critical part of the canine rehabilitation process and can be incorporated into gait training exercises and underwater treadmill sessions.
Our No-Knuckling Training Socks and leg wraps are available in various sizes to accommodate furry friends large and small
Product Details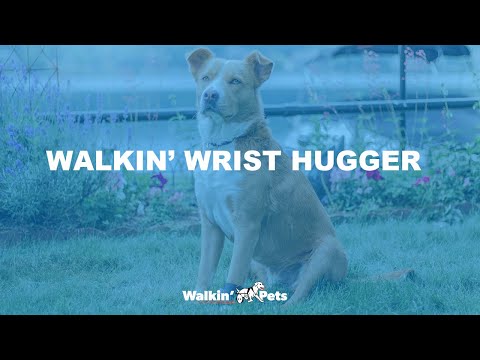 The Walkin' Wrist Hugger fits the natural angle of the carpal joint, hugging the joint from above and below to provide support. The Wrist Hugger is designed to comfortably fit your dog's carpal/front leg area so that carpal injuries heal faster.
Fits natural angle of carpal joint on front legs (see Hock Hugger for rear legs).
Allows dog to move easily and without strain on joint.
Ideal for carpal injury recovery and prevention.
Supports carpal joint and surrounding structures, so muscles, tendons & joints can heal.
Helps with loss of support and stabilization from Arthritis.
Quality Construction:
Made of comfortable, durable neoprene with VELCRO® Brand fasteners.
VELCRO® Brand fasteners wrap above and below carpal joint for additional support.
Great for everyday wear: will not rub, pinch, or irritate skin
Available in four sizes to accommodate a range of breeds and sizes.
THE COMFORT & CARPAL SUPPORT YOUR PET NEEDS
The Wrist Hugger protects your pet's injured wrist or carpal joint. Touch fastener straps wrap above and below the joint to provide additional support and stabilization.
HELP YOUR PET'S LEG INJURY HEAL
The Hugger wraps comfortably around your pet's lower leg and conform to their natural shape. The front leg wrap helps promote your pet's healing during physical therapy & recovery.
SIMPLE TO USE & ADJUST
This durable and lightweight leg support can be worn for nighttime support as a splint alternative or in later stages of healing when only light joint support is needed. Perfect for pets recovering from a wrist strain or sprain.
The Walkin' Wrist Hugger is not intended to diagnose, prevent, or cure any disease or condition. Please consult with your veterinarian regarding any concerns you have about your dog's health.
How to Choose the Right Size
| Size | Weight | Height |
| --- | --- | --- |
| XSmall | 10 – 15 lbs | 3.25″ |
| Small  | 15 – 25 lbs | 3.25″ |
| Medium | 25 – 60 lbs | 3.5″ |
| Large | 60 – 100 lbs | 4″ |